Tamera Szijarto: In My Bag- Benefit Bad Gal Eyeliner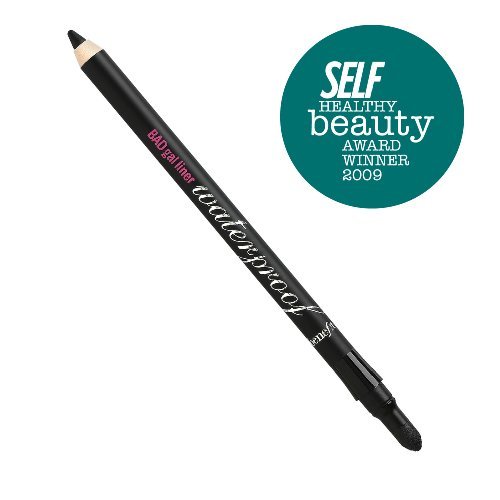 As the founder of a web store, I get to try a lot of the products I carry. But since thereís so many, they can easily pile up on my ďmust tryĒ list. Last month however, I ran out of my trusty simple olí eyeliner. If youíre like me, sometimes you splurge, sometimes you opt not to. It just so happened that we were about to run out of stock of Benefitís Bad Gal Waterproof eyeliner. There was only one left. Now, this product usually sits for no more than a few days on our shelves. So upon visiting our ďmakeup vaultĒ I was surprised to see there was one left. I almost heard it call out my name.
A day passed and I was still thinking about it. I wondered how a product as simple as eyeliner can be so in-demand. And today, it was still there. I asked the shipment personnel if there was an order for it, she said none so far but she doesnít expect it to stay at the store room for long.
Another day passed. This eyeliner is starting to haunt me. Loyal customers and friends have bought this from me, yet I havenít tried it. I see that it won a Beauty Award from a very popular magazine or two. Whatís in this eyeliner? Why is this so special? I canít imagine how different it can be from the rest. So I finally told the accounting staff, ďPlease put this on my tab...Ē
After that, I tucked it away in my ever-so-full makeup kit, which is making my shoulder bag truly heavy, giving me stiff necks and aching shoulders. I used it the next night, and the day after that, and the next...
Hereís my experience with Benefitís Bad Gal Waterproof Eyeliner:
1) The Perfect Shade of Black. I used to try and find the perfect eye shadow color, contour, and blending scheme that would bring out my eyes. Itís a never-ending search. But when I used this eyeliner, I understood why it didnít remain on our shelves for very long. The black was a perfect shade of jet black. Itís black but not too matte nor glossy. Itís a perfect compliment for anyoneís eyes. But if youíre looking for a burlesque look, consider liquid eyeliners. Itís perfect for evenings out.
2) Texture to Ogle Over. Oh the texture was wonderful! It provided ease of application so my dry, wrinkle-prone skin was safe since I didnít need to layer it over and over again; hence there was no need to stretch my eye area in an exaggerated way like I used to do with other eyeliners. It was fast and precise.
3) Built to Last. Want to truly test what youíve got? Wear it while playing beach volleyball in the middle of summer or do like I did. I took it scuba diving! After hours of rubbing my eyes and putting my scuba mask on and off going 60 Ft underwater and back to the surface for a whole day, what was the verdict? True to its promises, it did not smudge nor flake off! I did notice it wasnít as black as when I first applied it. Maybe it did flake off a little but the flakes certainly did not stay on my under eyes nor cheeks. My eyes were still neatly lined. Any runoff from the product was nearly unnoticeable unless of course you study it closely in front of a mirror. Reapplication needed when under strenuous activities? Perhaps, but not necessary.
4) Intuitive? I wouldnít go as far as to call this magic eyeliner, but the formula seems to be intuitive. It knows how to be just what you need it to be. For example, the way it doesnít smudge when you rub your eyes, but it does smudge when you use the smudger. Or the way it flakes off throughout the day nano-particle by nano-particle that it seems unnoticeable and leaves you looking as perfect as you did hours ago. Further, those flakes are nowhere to be seen on your face. Your bags and cheeks remain flawless. I have tried waterproof eyeliners that do flake off and those flakes landed on my cheekbones. Eck!
5) Worth the price? The reason I didnít include this product right away in my ďmust tryĒ list was because I didnít believe in a pencil costing as much as lipstick or more. But the truth is, after having tried this product; itís really well worth the price. Especially if I donít have to sit in front of a mirror all day trying to mess with a bunch of eye shadows figuring out how to bring out my eyes while looking effortless. Whew, that was a mouthful! I only usually splurge on foundation, blush, mascara, and primer. But realizing what an excellent eyeliner can do turned me into an eyeliner junkie. =D
Admin




Number of posts

: 18


Registration date :

2008-09-01





Similar topics
---
Permissions in this forum:
You
cannot
reply to topics in this forum