Here are some tips from Rona Berg, former beauty editor of The New York Times Magazine and was the editorial director of Elle magazine. She is the author of a book entitled "Beauty – The New Basics"
A) To make your eyes look Closer Together.
Stroke a light or medium neutral shade of eye shadow on the inner corner of your eyelids. Or use eyeliner to draw the line a bit thicker on the inner corner of the eye and stop the line where the outer corner of the eye stops.
Illustration: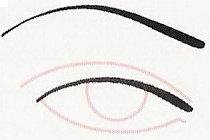 B) To make your eyes look Farther Apart.
Take a matte shadow in a darker shade and stroke it outward and slightly upward, on the outer corners of the top and bottom lids. Or use eyeliner and start the line just a bit away from the inner corner of your eye. Make it slightly thicker toward the outer edge and extend it in a slightly upward curve.
Illustration: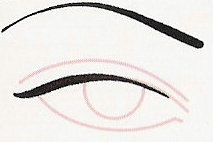 C) To make your eyes look Bigger.
Remember, light tones protrude, so you want to bring light into your eyes. Stroke a neutral shadow in a light shade in the crease of your lid above your iris. If you want color, stroke the neutral on first- bone, vanilla, taupe- and then layer the color on top. It lights up the eye as if there were a light bulb behind the lid. Or stroke a light color on the lids, with a darker color in the crease and along the upper and lower lash lines. Or use eyeliner to follow the natural shape of the eye and draw a fine line at the base of the upper and lower lashes to give your eyes more definition.
Illustration: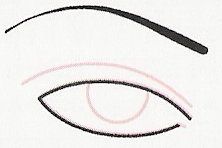 D) To make your eyes look Rounder.
Put eye shadow all around the edges of the upper and lower lids to make your eyes look rounder. Or use eyeliner to outline the eyes at the base of the lashes. As you move toward the outer corner, thicken and 'wing' the line upward ever so slightly.
Illustration: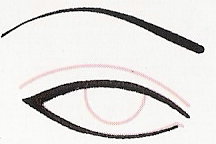 E) To make the eyes more Oval.
Draw a fine line at the base of the lashes. Thicken it slightly in the middle of the lid, and draw it toward the outer corner to make your eyes appear more oval.
Illustration: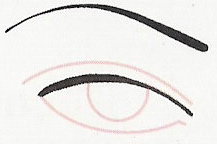 Admin




Number of posts

: 18


Registration date :

2008-09-01



Perhaps eyeliner is one of the most basic cosmetics around. But this little wonder can be tricky to apply. Sometimes, a fraction of a millimeter in position or thickness can be the difference between mind-blowing and mind-boggling.
There are major eye differences from size, shape, and color and I will have suggestions for each.
Let's begin.
Step 1: Observe your eyes.
Look at your eyes. Are they big, small, or just about normal? What color are they? Light or dark? This is useful if you want to use colored liners instead of plain black.
Step 2: Colored Eyeliners.
For light colored eyes with fair or light skin color, you can experiment with bright and pastel colored eyeliners. Light colored eyes can generally carry a variety of colors.
For those with dark eyes, certain colors can make us look sickly and unhealthy. Generally, when choosing colored eyeliners go for blue, navy, purple, AVOID Reds.
Step 3: Black Eyeliner.
As a general rule of thumb, black eyeliner looks good on any skin tone and any eye color. Plus you can add an eye shadow color of your choice to flatter the eyeliner. You can't go wrong with black liner.
Step 4: Pencil, Retractable, and Liquid Eyeliner.
Each one of these liners produce different effects. My personal favourite is pencil. It's easy to use; no training required, and gives you a defined, long-lasting, discreet, and natural look.
Retractables are creamier in consistency. They can smudge a bit if you have sweaty or oily eyes so I would recommend this to those who have dry skin around the eyes. This is a bit more dramatic than pencil. People would definitely be able to tell that you have eyeliner on. Great part is, you never have to sharpen. This is great for smudging.
Liquid eyeliner gives the most dramatic effect. You need to have a steady hand to utilize this well though. It would take moderate practice to master the application of liquid liner. It's harder to remove if you make a mistake, but the end result is red-carpet amazing. This can transform you into a goddess.
Step 5: Find a comfortable hand position.
Take your left hand (if you're right handed) and use your index finger to pull the eyelid of your right eye outwards to stretch the skin of your upper lash line. This will help the eyeliner go on more evenly. Rest your left wrist near your chin. With your right hand hold the eyeliner as you would a pencil or whatever feels comfortable for you. Rest your right wrist on top of your left hand. This will give you more control.
Do the exact opposite if you're left-handed.
For the left eye, pull the eyelid outwards to the side while resting your left wrist near your chin. Rest the side of your right hand to the side of your left hand to get a steady hand. Find the hand positions most comfortable for you which would allow you to steadily apply the eyeliner.
Step 6: Applying Pencil or Retractable Liners.
Upper Lash Line.
If you're using a pencil eyeliner, make sure that it is somewhat sharpened.
Close the eye you want to apply the eyeliner to. Start from the middle of your top lash line going out. After start, line from the inner lash line to the middle until the second line meets the first. Make sure your line is uniform enough and not too thick at the top and too thin on other areas. Uneven lines can change the shape of your eyes completely. So make sure it is uniform in thickness.
Generally, it is in the upper outer lash line that thicker lines are applied to open up the eyes more.
For those who want a more glamorous look but wants it to look effortless, apply eyeliner on the inner rim of your eyes but be very careful not to poke your eyes. Also, if you want to do this, check if your eyeliner is safe for the eyes. Smudge if you desire a softer look.
*Note: Good quality retractable eyeliners are hard to find. Some won't color if you've gotten some eye shadow or powder at its tips. Some Smudge with a capital S. Some clump and some break. So far, from all the retractable eyeliners I've tried, Clinique Quickliner for Eyes in Really Black is the best. It even has a smudger at the other end for the smoky eye effect. It still paints your eyelash lines black even if you've gotten eye shadow all over it or if you're applying it on top of eye shadow.
Lower Lash Line.
You may choose to skip putting eyeliner on your lower lash line. For those who want more oomph apply intelligently. Unless of course your goal is gothic. Apply sparingly and smudge along the lash line.
A great way to liven up the eyes, especially for those with small eyes, is to apply the eyeliner in the inner rim of your eyes.
Here's an example where the liner is applied on the lash line.

*A technique!
Close the eye you are lining. That way you are lining as close to the lash line as possible, and at the same time you are lining the bottom lash line. Apply eyeliner exactly where your upper and lower lash lines meet. You're eyelashes will also be darkened in the process. This would look so lovely and natural no one will be able to tell you're wearing eyeliner. Voila! Dark eyes with hardly any eyeliner visible.
Here's an example where the liner is applied closer or on the rim of the eye.
Step 7: Liquid Eyeliner.
Try to find a liquid eyeliner with the shortest brush. This would give you more control. Find your comfortable hand position. See step 5 for a suggestion. Apply as close to the lash line as possible and with uniform thickness. You can always add later. Start from the inner corner of the eyes and draw all the way to the end. If you want a cat-eye effect draw a wing slightly upwards in the outer corner. Do everything slowly and steadily. It takes quite a bit of practice. If you find you made a mistake, simply get a moist q-tip and erase. Make sure both eyes are symmetrically lined. Here's an example of a beautifully made cat-eye.
remind you of a certain celeb?
Step 8: Smoky Eyes.
Smoky eyes can be achieved using eye shadow. But it can also be done using eyeliner. Gently stroke the outer corners of your eyes with your pencil or retractable eyeliner and use a smudger or brush to spread the color up to the outer eyelid and outer crease. Make sure to blend well for a not-too-made-up look. Do the same for your lower lash line. Smudge and blend. Smudge and blend. Do the smudging and blending with your eyes open so you will see how the end result will look like.Here are two vampilicious smoky eye examples. Study the pictures and try which smoky eye effect suits you best.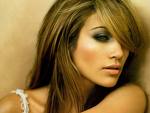 A. The Sultry Smoky Eyes
B. The Elegant Smoky Eyes
Though these ladies both sport the smoky eye look, notice how letter A's shadow goes almost all the up to the brow bone while B is more refined. Never pair the kind of smoky eye letter A has with strong red lipstick. Nude lips will complement this kind of smoky eye better.
HAPPY LINING!
Admin




Number of posts

: 18


Registration date :

2008-09-01





Similar topics
---
Permissions in this forum:
You
cannot
reply to topics in this forum