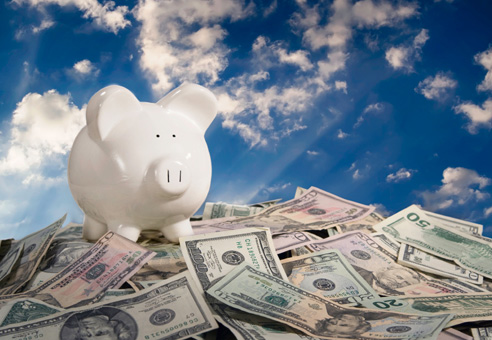 Starting the last quarter of 2008, talk about banks closing due to derivatives and other non-liquid assets spurred the beginning of the so-called recession we are now experiencing. For first world countries, this means cutting back on loans and non-liquid assets. For those who are not familiar with the term "liquid" as reference to a type of asset, here's an idea. Liquid assets are money, gold, foreign currency securities/stocks, which can easily be converted into money or the equivalent of it such as gold which is very very easy to sell. The key term is Money Market. But if your stock cannot be liquidated easily, then it's not liquid. Non-liquid assets are real estate, vehicles, antiques, and other assets that take time to convert into moohlah.
One of the reasons banks gotinto trouble was they had too much non-liquid assets that they couldn't readily sell. They provided cash in the form of loans to people and businesses in exchange for collateral. The same with the housing market. The banks provided the needed cash to pay for the house, in turn the person now owes the bank with interest. Since houses are usually 25 years to pay, the banks really are not liquid. They own your house until you've fully paid for it. Foreclosure anyone? Repossesion? That's what happens when you don't pay up the bank. Too much loans. Student loans, business loans, investments, commodities, futures, the whole enchilada of investment products, and types of loans. The result? Not enough cash flow, hence, the shrinkage, hence, the downfall of the mighty bank. I've been hearing on the news that it was derivatives that put banks in trouble but I would second guess that idea. Although, I do admit I am not an expert on all types of derivatives. But I am an expert on stocks and forex. I found this very simple definition of derivatives on Yahoo Finance for reference:
Derivatives is a generic term for a variety of financial instruments. Unlike financial instruments such as stocks and bonds, a derivative is usually a contract rather than an asset. Essentially, this means you buy a promise to convey ownership of the asset, rather than the asset itself. The legal terms of a contract are much more varied and flexible than the terms of property ownership. In fact, it's this flexibility that appeals to investors. "A good toolbox of derivatives allows the modern investor the full range of investment strategy" and "the sophisticated management of risk," according to the derivatives specialists at NumaWeb.
So in short, you're not really buying anything. It's just a "promise to buy" and as an investor you hope that the value of this promise goes high enough so you can sell it at a profit. But of course the price can go up and down. This promise is a contract and depending on how long that contract is, you can either win or lose money. Derivatives can be bought (long position) or sold (short position). Unlike stocks where you can only buy and if you decide to stop holding a stock, you simply liquidate it. With derivatives, it's like placing a bet if the derivative will go up or down and if you're right, you win.
If you want more information, here's a nice summary from MIT:
http://ocw.mit.edu/NR/rdonlyres/Urban-Studies-and-Planning/11-432JSpring-2007/E0E4FF20-0FD7-48B1-AAAF-F8E3D2A190BC/0/derivs.pdf
Now how can banks be affected by this you ask? It is the banks that enable investors to buy forex, derivatives, UITF, futures, and other investments that need banks to clear these transactions. With stocks however, you only need a broker and the exchange such as PSE or NYSE in the US. Usually, banks also act as brokers. Derivatives have different types (futures, options, swaps, forwards). Remember, whatever type it is, you are buying the contract of "promise to buy or sell." If everyone pacticed the traditional way of investing, the banks wouldn't lose. BUT, people are intelligent. Hedge funds and general hedging was born. People don't want to bet on whether something will go UP or DOWN, they want to make money. They will find ways to make sure their capital is preserved and increased. The news blame derivatives because it is through derivatives that money managers safeguard and increase the value of money. HEDGING! Simply ingenius!
Now they want to introduce derivatives to the Philippines. Wow, maybe they see investor potential here.
I say this is an opportunity because stocks are down and Treasury bills are being offered. Forex and Futures are good, but not when the money market is in turmoil. The volatility alone can kill you in forex. Volatility means the speed and amount at which the rates go up and down. The more movement, the more volatile a currency pair becomes. Stocks and T-bills are recommended in bear markets. Bear market and bull market are the terms used to describe the atmosphere instock investing. Bull means aggressive trading where everyone wants to buy stocks. Bear means the investors and traders DO NOT want to buy stocks, they want to liquidate their stocks for fear the value will go down more. So in a recession, we are in a bear market. As the great Warren Buffet would suggest; It is in the bear market where you should buy stocks. Buy cheap, sell high. A bear market will not always be around. Take advantage of it when it is. It's very difficult to find the "right" stock in a bull market as many stocks are overvalued. Not to mention all the bulls are hovering around the market.
If there are topics you want us to cover, just reply to this post with the topic you want us to discuss.
[/justify]
Admin




Number of posts

: 18


Registration date :

2008-09-01




---
Permissions in this forum:
You
cannot
reply to topics in this forum